TheSSLStore Cyber Monday Discount Deal on Symantec & GeoTrust SAN SSL Certificates in Chicago, Illinois For Sale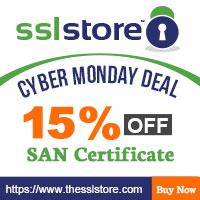 Price: $172
Date/Time:05 Dec, 12:21 p.m. EST
Type: Computer, For Sale - Private.

On Cyber Monday TheSSLStore.com offers a limited time discount code for SAN SSL Certificates from major Certificate Authorities like GeoTrust and Symantec.
TheSSLStore is a global leader in the SSL industry. Increase trust and protect your customer's information on your website with a discounted SSL certificate from a leading brand such as Symantec, GeoTrust, Thawte, and RapidSSL.
Exclusive Cyber Monday Deals on SAN SSL Certificates
Buy GeoTrust SAN SSL at just $172.34 /Yr
Cyber Monday Coupon Code: BFR15GTMD4YR1
Buy GeoTrust EV Multi Domain SAN SSL at just $274.98/Yr
Cyber Monday Coupon Code: BFR15GTEVMD2YR2
Buy Symantec SAN SSL at just $629.10/Yr
Cyber Monday Coupon Code: BFR10SSEV2YR2
Buy Symantec Secure Site Pro with EV at just $944.10/Yr
Cyber Monday Coupon Code: BFR10SSPEV2YR2
Note: Cyber Monday offers valid from 21st to 30th Nov. xxxx so grab the Cyber Monday discount offers on
SAN Certificate and secure multiple domains with single SSL Certificate.

Time: 12:10 p.m. EST
Date: 22 Jul

Cell phone glass replacement
We offer professional cell phone glass repair. Are you tired pay this horrible prices for your cracked glass when LCD...
Time: 12:09 p.m. EST
Date: 22 Jul

Time: 12:01 p.m. EST
Date: 22 Jul

Time: 11:55 a.m. EST
Date: 22 Jul

Time: 11:26 a.m. EST
Date: 22 Jul

Time: 10:48 a.m. EST
Date: 22 Jul